VIRTUAL REALITY NARRATIVES. AUDIOVISUAL THEATRE WORKSHOP WITH BEANOTHERLAB AND MACARENA RECUERDA SHEPHERD (CANCELED)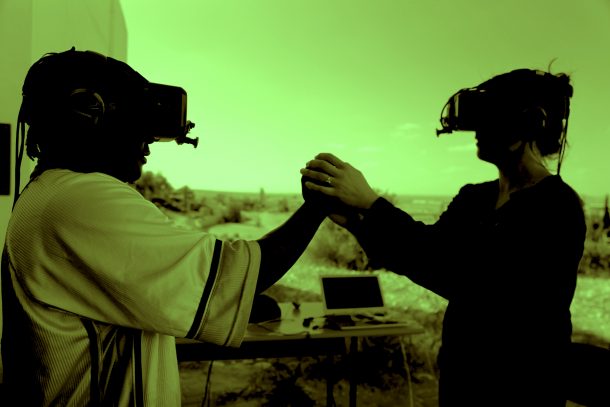 Based on the research and creative experience of BeAnotherLab in the process of project The Library of Ourselves (in residence at IF Barcelona 2016-2017), and through the body swap approach taken by "La màquina de ser un altre" ("The machine of being another"), this workshop will seek to explore various narrative possibilities generated through real-time virtual reality tools based on which we can create a stage proposal.
It is simultaneously a real and fictional experience—an experiment on movement, the stage, play writing and perception.
Lidia González Zoilo adds her very personal voice to the immersive narratives developed by the international community BeAnotherLab from virtual reality. Known as Macarena Recuerda Shepherd, her work combines public participation, the use of different areas along an established physical and dramatic route and various visual expression techniques such as video, photography and iconography.
Aimed at playwriting, direction, set design and visual theatre students and professionals.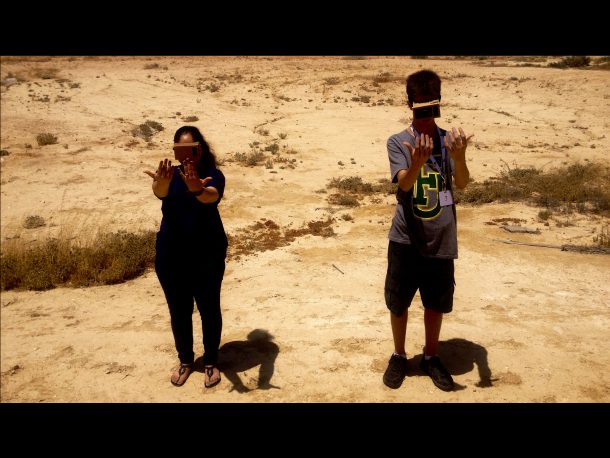 Programme
Groups of at most five people will be created during the lab, in order to work on various creation phases. Participants will develop the script of a story told in several episodes and stage it while leveraging virtual reality tools. As a starting point, initially students will immerse themselves in a story through which they will know the materials and techniques they will have available. The dramatic evolution of their subsequent creation will be linked with a physical tour though dynamic scenery leveraging virtual reality. BeAnotherLab will provide both the devices and the technical expertise to implement them.
In order for the spectator to be completely immersed in the virtual space, the visual element must be complemented by the stimulation of other senses: smells, air drafts, actors shaking hands, and so on. All this generates a series of movements around everyone following the story from their devices. The creators must work on the choreography of these movements and ensure the contiguity between the shooting and the environment.
Targets
Integrating the object, video and virtual reality in the dramatic conception.
Create a drama piece based on stage perception.
Explore and experience the joint use of techniques and possibilities of virtual reality to create narratives and its impact on the viewer.
More information: http://www.institutdelteatre.cat
http://www.institutdelteatre.cat/ca/pl328/estudis/it-estudis-postgrau/id64/narratives-realitat-virtual.htm
http://www.putxinelli.cat/2017/07/25/if-barcelona-2017-del-9-al-19-de-novembre-dramaturgies-de-lobjecte/
BeAnotherLab
This artistic and interdisciplinary research group was founded in Barcelona in 2012. It focuses on understanding, communication and extension of subjective experiences, focusing efforts on studying the relationship between identity and empathy from what they call embodied perspective.
BeAnotherLab seeks to develop innovative applications in art, scientific research, social projects, health and education—strongly underscoring the impact on people's lives. Its work is based on a distributed action-research model and the design of collaborative methodologies. They cooperate in many disciplines and institutions across various countries.
BeAnotherLab is made up of Philippe Bertrand, Cherene Christian, Norma Deseke, J. J. Devereaux, Daniel González-Franco, Daanish Massood and Marte Roel, trained in fields such as cognitive systems, interactive systems design, digital arts, computing, anthropology, philosophy and conflict resolution.
Their proposals have been presented in contexts as diverse as the Holot Detention Center in Israel, the United Nations General Assembly in New York, the Tel Aviv PrintScreen Festival, the Tribeca Film Festival in New York, Digital Art Festival Taipei, MIT Boston, Centre Georges Pompidou and the CCCB.
BeAnotherLab boasts the academic collaboration of the Max Planck Institute (Berlin), Poli-USP (São Paulo), Imagination Institute (New York-Paris), MIT (Boston), UPF (Barcelona). In 2016 they won the European Commission's European Social Innovation Competition.
Macarena Recuerda Shepherd
Visual artist and dancer. She has done several projects in collaboration with Txalo Toloza, Amalia Fernández, Amanda Pola and Vicente Arlandis. Since 2008 she is a founding member of Colectivo Estraperlo, a hard-to-label platform of creatives.
Her pieces are:
2010: That's the story of my life, a MiCarteraPatrocina production, in collaboration with Bilbao Arte, Teatre Lliure and Antic Teatre, a piece that has toured throughout Spain, Portugal and Colombia. 2012: Greenwich Art Show, a MiCarteraPatrocina, Festival Neo, CAET and Antic Teatre production. 2013: Whose are those eyes? Site-specific urban intervention and inaugurated at the Tàrrega Fair 2013, Escena Poble Nou i Bad 2013. 2015: El Experimento Ganzfeld (The Ganzfeld Experiment). HPC consonni (Bilbao). 2016: Collage y Acción, in-process research lab. 2018. ¡AY! ¡YA! work in progress.
http://www.macarenarecuerdashepherd.com