LUMIMIC. BESLLUM AND OCTAVI RUMBAU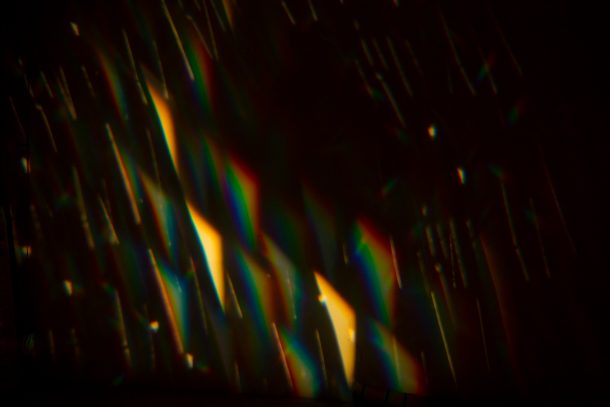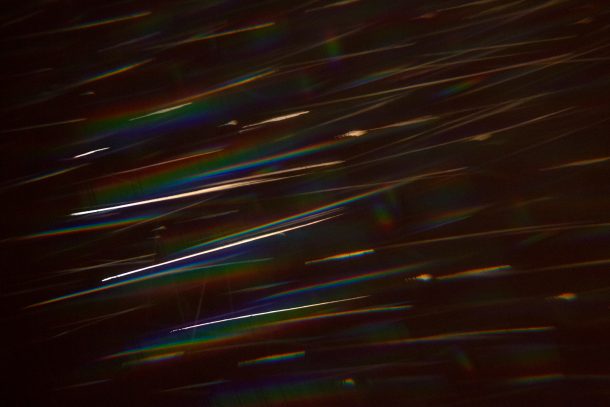 SYNOPSIS
"Besllum" is a Catalan word that means radiance or luminescence—light shining through a body. This word defines the research project on lights and shadows and results in real-time hands-on dramatic show evoking the early days of cinema.
Different objects, opaque and translucent, organic materials such as plants, roots, water and various fluids become puppets brought to life, thanks to the movement from manipulation. Using light-emitting devices such as scrapped and retrofitted slide projectors, objects come to life and are magnified—evoking imaginary landscapes ranging from inside the body to the universe as a stage. A mysterious atmosphere is created—with allusions to the evolution of the cosmos, the movement of body fluids, the functioning of organs, nerve tissue, blood flows and photosynthesis—blending astronomy with cellular observation. From everything to one and from one to everything, since often in life from a single point of light a thousand points are formed, according to Besllum.
Along with the sonic exploration of Octavi Rumbau—based on the organicity and the play with perception of time and its paradoxes—the group's proposal is a kaleidoscope of infinite dramatic possibilities.
Credits
Visual and object manipulation: Besllum (Pau Caracuel and Joana M. Pericàs)
Music: Octavi Rumbau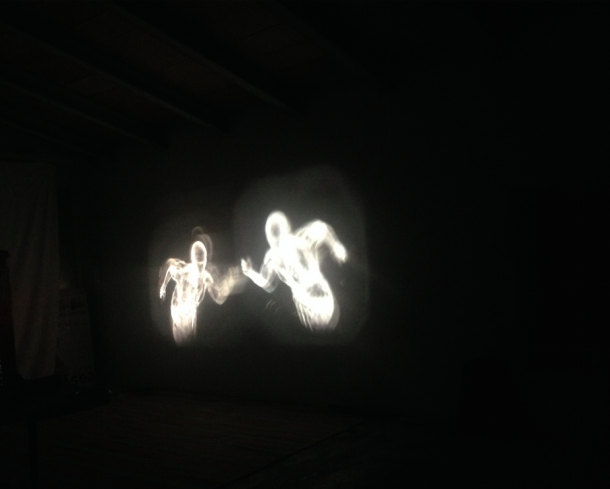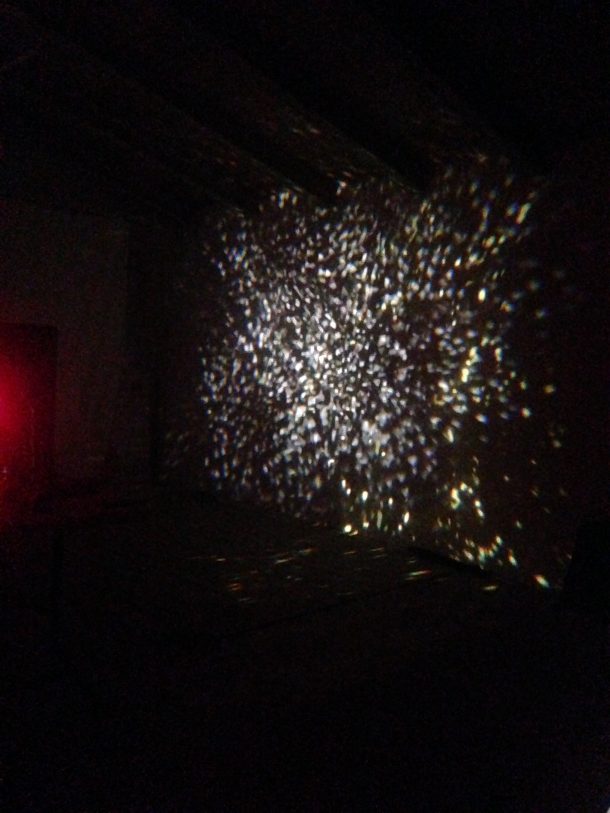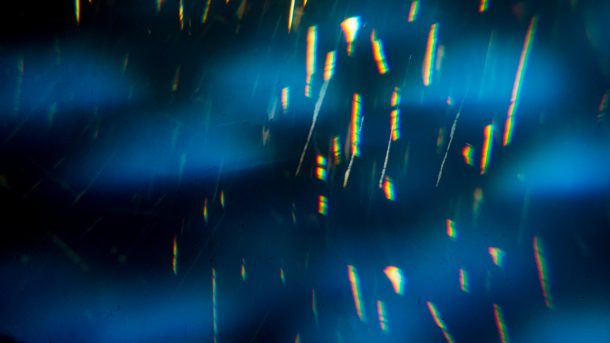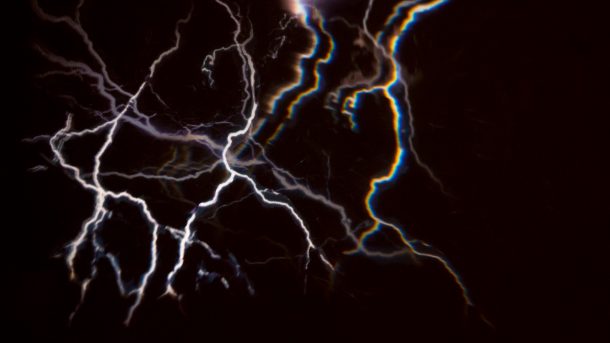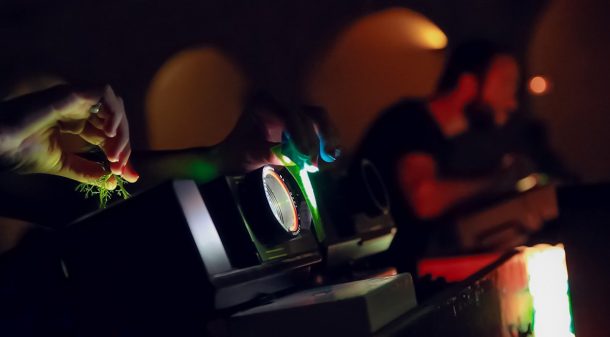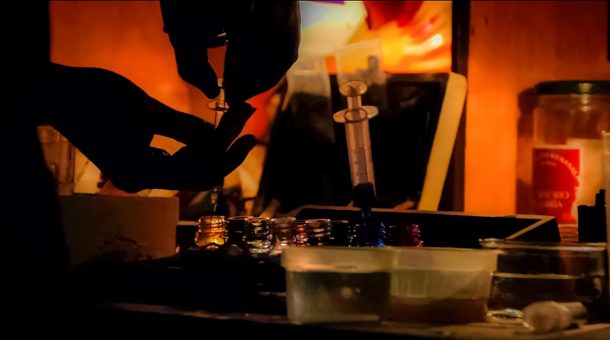 Biographies
Besllum
Born in Mallorca in 2011 Besllum is a project dedicated to researching and creating audiovisual performances through scenic procedures and experimental techniques. Its creators are Pau Caracuel and Joana M. Pericàs.
The word "besllum" is the root of this concept which gives meaning to all its creations—showing the result of light shining through a tangible body. The essence of their work lies in studying the relationship between light and shadow, taking it to the extreme with all kinds of gadgets at their fingertips.
In the first stage of their history, and with the desire of interacting with other performers, they enlist the collaboration of sound artists "Kaum" (Silvina Ávila and Jan Gerdes). Their first performances were staged at contemporary creation venues and projection centres such as SaTaronja, CRCC and Can Monroig (Mallorca). Soon later, they expanded their activity with performances at the Palma CaixaForum, Exposono'12 in collaboration with sound artist H1000VM, Palma Nit de l'art (Art Night), in collaboration with choreographer Hélene Lebeau, and getting involved with the documentary Som Elles (We are Them) and Casal Solleric. They perform at IF Barcelona 2015 within the framework of the exhibition Figures del Desdoblament (Unfolding Figures), together with the Daqian group with the Oort Cloud piece by Jexper Holmen. In collaboration with IF Barcelona, in 2017 they are performing at the Incanti Festival (Turin) and at the Lluèrnia festival (Olot).
Octavi Rumbau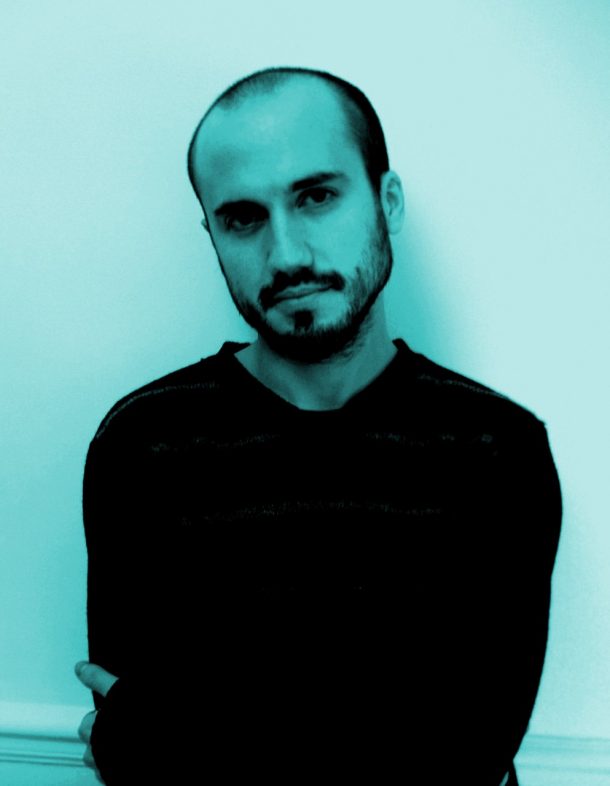 Barcelona composer born in 1980. His recent work focuses on the search for new sound spaces for interaction between the instrument and electronics, as well as focusing on the malleability of musical tempo.
His works are performed in numerous concerts, meetings and festivals throughout Europe and North America. He has received commissions from l'Auditori in Barcelona, Fundació Tàpies, ME_MMIX, BCN216, CrossingLines Ensemble, Festival d'Òpera de Butxaca (Pocket Opera Festival), Orchestra of Barcelona, UMS'n JIP/Mixtur Festival, Duo Links, Rémi Durupt, Miguel-Ángel Lorente, etc. He has also collaborated, among others, with l'Ensemble Multilatérale, Taller Sonoro, Ensemble Links, Spanish Brass Luur Metalls, Funktion, Orchestre de la Lorraine, Orquestra de les Illes Balears, Alberto Menchén, Laurent Durupt, Jan Gerdes and Philippe Spiesser.
As a classically trained pianist, he began studying composition with Enric Palomar, Yoshihisa Taïra and Agustí Charles. Later, he moved back to Paris to study composition at the Conservatoire national supérieur de musique et de danse de Paris (CNSMDP) under the guidance of Frédéric Durieux and Orchestration with Denis Cohen. In parallel, he completed the annual computer music course at IRCAM.
He received several awards, including the 2005 Frederic Mompou Composition Competition, the Dolors Calvet i Prat 2008 Composition Competition, Colegio de España and Instituto de las Artes Escénicas y de la Música (INAEM) Composition Competition in 2012, help for creators from the 2012 Phonos Foundation of the Pompeu Fabra University in Barcelona and the 1st Berliner Opernpreis 2013 award. In recent years, he has received support from various institutions, including the Government of Catalonia and the Spanish Ministry of Culture.
Octavi Rumbau is currently professor of Electroacoustics at the Music Conservatory of the Balearic Islands and teaches orchestration at the Taller de Músics Escola Superior d'Estudis Musicals de Barcelona.