SI SE DIERA UN CUERPO AL BULLICIO (IF BUSTLE BECAME FLESH). CONSTANZA BRNČIĆ / NUNO REBELO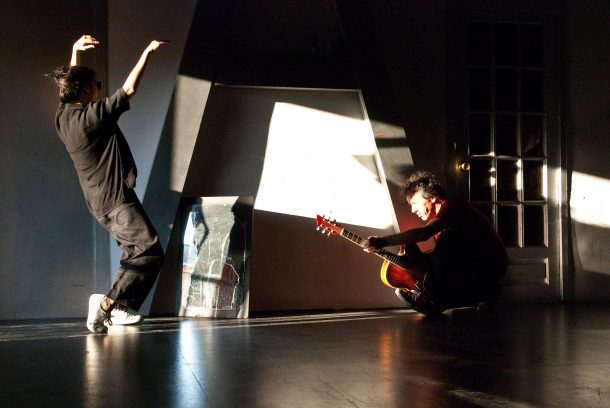 Fotografia de Román Rubert
Si se diera un cuerpo al bullicio began as a game in which a figure was made in space and then a sound. We looked at the figure in silence and then later came the sound. The figure changed like a landscape throughout the day. We imagined the body released, given over to the sound.
Si se diera un cuerpo al bullicio is a small world in which there are new sound and visual creatures each time it is put into operation. The body is delivered to hearing and the interplay between hazard and need.
Constanza Brnčić and Nuno Rebelo
Nuno Rebelo i Constanza Brnčić have collaborated for years in various stage creation projects. The interest they share in experimental music, improvisation and the pleasure of performance games has led them meet at various times and contexts to improvise with sound and movement. From these encounters—some public, others in closed-door venues—they have elucidated a specific language that combines physical action and musical creation.
Si se diera un cuerpo al bullicio is a first attempt to grasp these findings theatrically. The piece explores the relationship between movement and sound production, working from the development of structures that generate various compositions fluctuating between hazardous and necessary. Performers use various objects and instruments which, when amplified, produce a sound space and likewise make images and actions appear. The result is a piece that moves between concert and perfomance.
Music and movement: Nuno Rebelo and Constanza Brnčić
Artistic collaboration: Beatriz González Magadán
Photography: Tristán Pérez-Martín, Román Rubert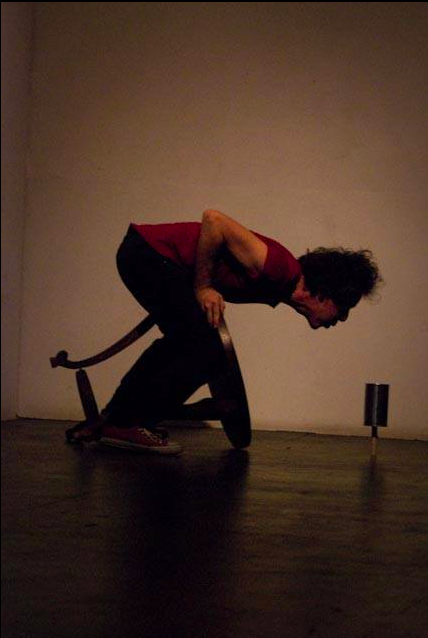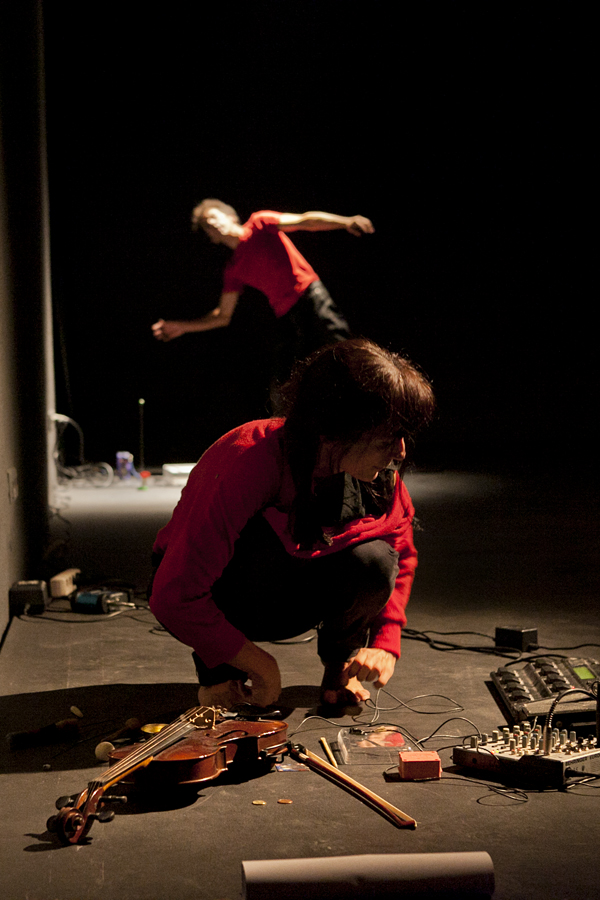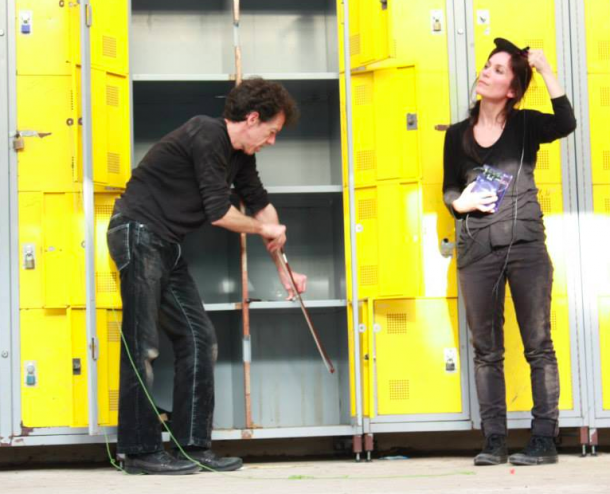 Constanza Brnčić Monsegur
Choreographer and dancer. Degree in philosophy from the University of Barcelona, Master's in Contemporary Thought and Classical Tradition. In 2002, Constanza Brnčić received the KRTU grant from the Government of Catalonia for Creative Youths and in 2003 the grant for visual artists from the Government of Catalonia's Department of Culture. Winner of the International Video-Dance Exhibit (2003) for her video Blank-emotive. Since 2009 she works as a choreographer and director of community projects at L'Escola de Música i Centre de les Arts de l'Hospitalet (EMMCA), and intergenerational project PI(E)CE, produced by Teatre Tantarantana. She teaches at the CSD (Dance Conservatory) and the ESAD (School of Dramatic Art).
Over the years, she has created numerous stage pieces in collaboration with performing artists such as Gabriel Brnčić (composer), Agustí Fernàndez (pianist), Victòria Szpunberg (playwright), Carme Torrent (choreographer), Joan Saura (composer), Nuno Rebelo (musician) and Albert Tola (playwright), among others. As a performer, she has danced with the company Raravis/Andrés Corchero and Rosa Muñoz (1996-2009) and the company Malpelo (2002-2005). She has performed as a soloist in W.A. Mozart's The Magic Flute choreographed by Min Tanaka at the Salzburg Festival in 2008.
www.youtube.com/lasospechosaorg
Nuno Rebelo, musician
After training in architecture, he decided to devote himself to his true passion: music. From 1983 to 1989, he led the rock band Mler if Dada to tours in Portugal, Spain, France, Italy and Algeria. Since 1988 he composed music for cinema, theatre and dance, working with choreographers like Joaô Fiadeiro, Vera Mantero, Paulo Ribeiro, Mark Tompkins, Lisa Nelson, Steve Paxton, Malpelo, and Constanza Brnčić, among others. He improvises at concerts with musicians like Joan Saura, Agustí Fernàndez, Ferran Fages, Alfredo Costa Monteiro, Lali Barrière, Marco Franco, Carlos Zingaro, Kato Hideki, John Zorn, Peter Kowald, Evan Parker and many others.
Creator of sound sculptures and installations, he has directed several projects for non-musicians, creating a musical piece with objects and performing at a city theatre hall or other venue. His creative versatility has led him to write music for many different occasions and contexts: the official opening of Porto 2001 (European Capital of Culture) and the official anthem for the Universal Exhibition in Lisbon, Expo'98.