The Library of Ourselves. BEANOTHERLAB
Central Library of Santa Coloma de Gramenet (Hall). From November 16 to 18.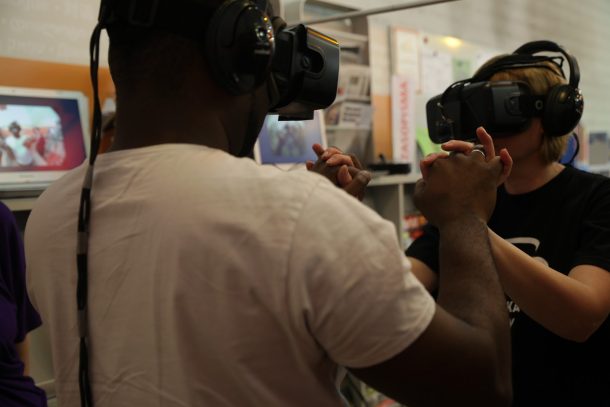 The Library of Ourselves is an immersive experience that allows the audience to experience first-hand the personal stories of the immigrant community in Barcelona.
By combining virtual reality, cognitive science and performance techniques, the system offers users the ability to see themselves in a different body, offering the possibility of movement, interaction with the space and narrative, as well as the possibility of receiving realistic haptic feedback.
The Library of Ourselves is a wide-ranging initiative by BeAnotherLab focused on the co-creation of experiences and meetings addressing issues of identity, empathy and personal experiences. This project is developed with a local and collaborative focus, thanks to the participation and creative direction of different groups. The Library of Ourselves is co-created with the collaboration of LaFamiliaTV, Ramia's Channel and #AixoesIslamofobia (SOS Racisme).
Apart from the The Library of Ourselves exhibit as part of IF Barcelona 2017, BeAnotherLab will carry out the "Narratives de la realitat virtual" ("Virtual reality narratives") creative laboratory along with Macarena Recuerda Shepherd. This lab examines various narrative situations from the virtual reality standpoint from which to create a stage proposal.
BeAnotherLab també will also present The Library of Ourselves from 16 to 18 November at the Central Library in Santa Coloma de Gramenet, as part of IF Barcelona.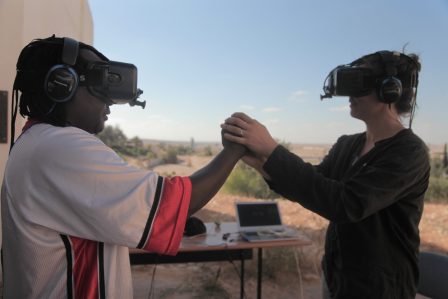 BE ANOTHER LAB is an international, interdisciplinary collective dedicated to investigate embodied and telepresence experiments. They believe that the understanding of the "self" is related to the understanding of the "Other" and that more than individuals, we are part of a broader system called humanity. Under this perspective, they search for innovative possibilities on the concepts of embodied interaction, extended body and extended mind by mixing low-budget digital technology with social relations, Web and neuroscience methodologies.
They develop Creative Commons tools based on OpenKnowledge and are collaborating with experimental psychologists and neuroscientists to develop usage procedures to 'the machine' as a low-budget rehabilitation system, and also as an immersive role playing system