EL TRÍPTIC (THE TRYPTIC). DAVID ESPINOSA
Opening: 9 November, 6:00 pm.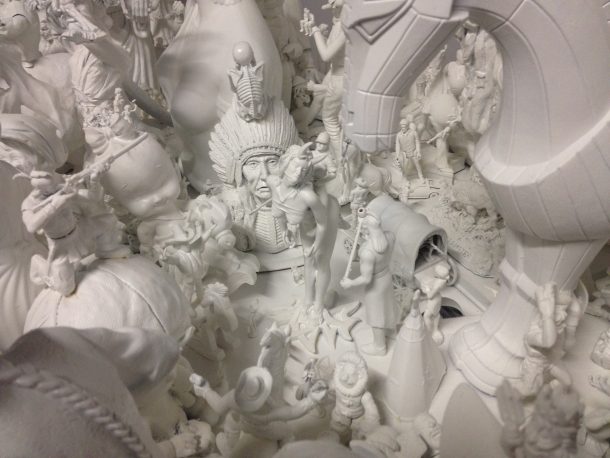 David Espinosa's installations and works—which stand out for their contemporary baroque flair—cover a vast array of theatrical genres. From the day he decided to relegate his body to a secondary role and replace the entire stage—a set with outdoor areas and space for 300 actors—with a scale model, he has enjoyed constant and consistent evolution which has led him to question the idea of enactment and break the limits of theatricality. His critical spirit, full of irony, is aimed at society and the world of art. With each new creation, Espinosa tries to develop a formal game that surprises the audience and brings them into a viewing of the work, crudely exposing the mechanisms and approaches of the project. He is increasingly interested in creating meaning through the relationship between form, light and sound. This has led him to pursue the concept of spectacularity, using somewhat precarious and low-tech methods to create theatrical effects. Through "Toys for Adults" he offers a particular experience where the recreational component has the same value as the artistic discourse.
The three devices that comprise El Tríptic continue exploring the performance possibilities of sculpture and handing over control of the action to the audience. Thus, it is viewers who lead and orchestrate the work. Thanks to their efforts of attention, perception, understanding and imagination, the work becomes meaningful.
Bwana Devil 3 is a white piece exploring the possibilities of 3-dimensional image, created in analogue and based on great cinema masterworks.
Oro feo (Ugly gold) is a gold piece that explores the relationship between sound and image inspired by the greatest opera and rock hits.
Odile i Schelkúnchik (Odile and Schelkúnchik) is a black piece that explores the relationship between image and movement based on the greatest hits of classical ballet and contemporary dance.
El Tríptic will also be exhibited in Santa Coloma de Gramenet, in the Centre d'Art Can Sisteré, on 17 – 19 November as part of IF Barcelona.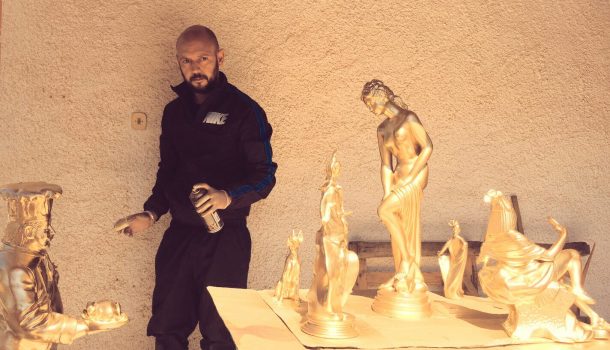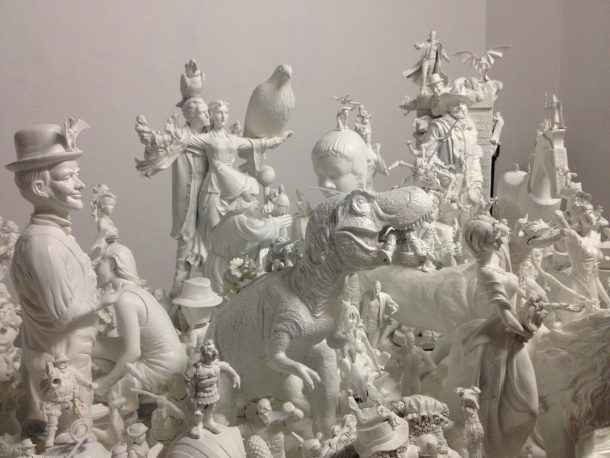 David Espinosa (Elche, 1976) holds a bachelor's degree in textual interpretation from ESAD, Valencia, and works as a theater and dance performer for Àlex Rigola, Sergi Faustino, Mal Pelo and Osmosis Cie, among others. In 2006 he created, along with África Navarro, the association El Local Espacio de Creación, where they created the shows Much Ado About Nothing (2014), Mi Gran Obra (My Great Work) (2012), Desconcierto nº 1 para teclado y fracasado (Disconcerted no. 1 for keyboard and loser) (2011), and La Procesadora (The Processor) (2010), among others. These works have been presented at festivals such as the NET festival in Moscow, FIT Festival Lugano, the Venice Biennale, Escena Contemporánea de Madrid, TNT in Terrassa, Casa Encendida in Madrid, MimeLondon, Tate Modern, etc.