WRECK. LLISTAT D'ESPÈCIES EXTINTES (EXTINCT SPECIES LIST) WORKSHOP WITH PIETRO MARULLO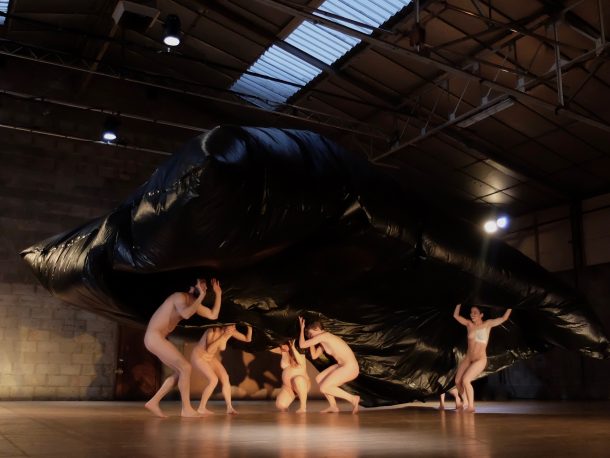 Wreck. Llistat d'espècies extintes is an interdisciplinary exercise that incorporates movement, sound and visual arts. The force of air causes a big black plastic—a soft sculpture—to move through space like a hunter.
This abstract object with great evocative power, swallows up and spits out human beings, naked bodies. We could consider it an allegory of Leviathan, a legendary underwater monster, a metaphor for capitalism or human conditions.
Wreck is a collaboration with the Barcelona's Sala Hiroshima
To participate in the workshop, you must have availability during course times. Being willing to undress in public is also mandatory.
The show will take place on the 16th at 8:30 pm
More information:
www.hiroshima.cat
Pietro Marullo
The interdisciplinary work of Pietro Marullo (Naples, 1985) lies at the intersection between visual arts and theatre, installation and movement. Trained at the Federico II Modern Languages Department and ICRA (Naples), he moved to Brussels to study direction at the Higher National Institute of Performing Arts (INSAS). There, he directed Blackboard for a colourless city (2010), a project on the relationship between the stage and the documentary, To the dreams of our children (2011), a reinterpretation of the myth of Icarus, and Prenditi cura di me (2012), a theatre, dance and video project created with his father.
Active in France, Italy and Germany, he has performed at the Venice Biennale (2011), FINDPlus Festival 2011 in Schaubühne Berlin, the 2013 Avignon Festival, Festival Emulation at the Théâtre de Liege and FestivalTransAmeriques 2016 at Montreal.
Wreck was premiered as the inaugural piece of the international dance festival OrienteOccidente (Rovereto, Italy) in co-production with Théâtre Varia in Brussels, Centro Internazionale della Danza de Rovereto, Tanzhaus Zurich and CDC La Briqueterie Paris.
In 2017 he started teaching at the Academy of Music and Theatre in Vilnius (Lithuania), giving workshops on the metaphor body and documentary theatre.