PUPPETS THEATRE: SPLITTING AND ALTERITY
16/10/2015
| |
Link
http://ifbarcelona.cat/en/programa-del-simposi-teatre-titelles-desdoblament-alteritat/
|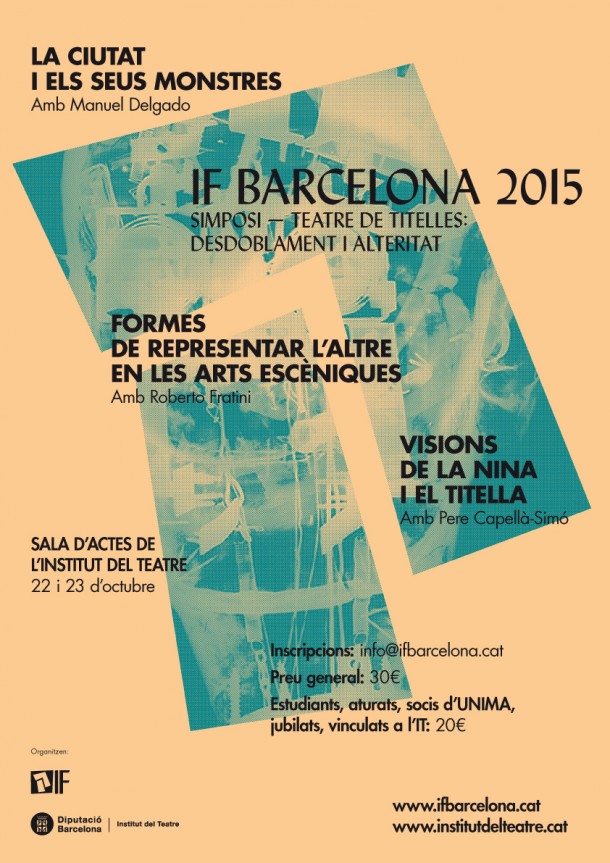 Theater Institute of the Barcelona
Provincial Council's Conference Hall
 22 and 23 October 2015
This symposium intends to provide an analytical, transversal and contemporary view of the dramaturgies produced by the figures theatre. The multidisciplinary analysis of this scenic manifestation allows to address the issue from the perspective of urbanism, anthropology, sociology, "literaturation" / representation of myth, the game and the alienation idea. It also aims to create an updated space for communication and discussion regarding the treatment of alterity and splitting at the performing arts.
Research and development platform embedded within IF Barcelona programme, this symposium coincides with the exhibition Splitting Figures, which opened on Thursday, 8 October (2015)  at Arts Santa Monica and heads IF Barcelona's poster of activities, dedicated to the universe of visual, puppets and objects theatre.
The symposium, organised by the Theatre Institute's Escola Superior d'Art Dramàtic – ESAD (School of Dramatic Art) and the Associació Interseccions, is especially targeted at researchers, performing arts professionals and students, as well as all those who deal with the splitting and alterity issue in philosophy, anthropology, history or any related field.
Similarly, in the framework of IF Barcelona's research and development programme, the V International Education and Puppets Forum has been programmed for Saturday, 24 October (2015) . Information is included in the end of the programme. Participants can register to both the symposium and the forum or to only one of the activities. The V International Education and Puppets Forum is included in the Permanent Training Plan of the Teaching Department of Catalonia State Council.